Grow green together symposium and workshops
Wednesday, August 10, 2022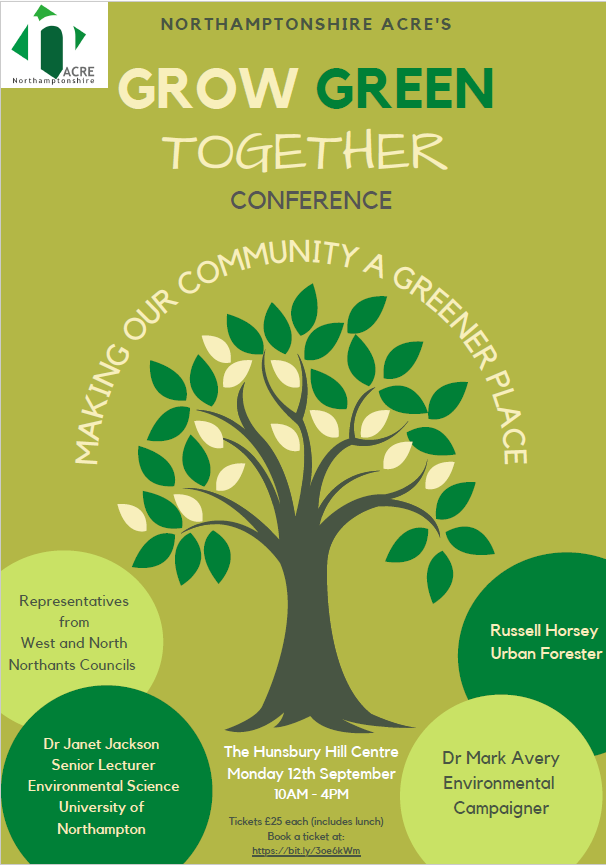 Climate change and nature depletion are happening now in the UK. We are rapidly losing our natural habitats, wildlife and biodiversity as well as having an impact on the food we grow and the food chain. Many people are increasingly concerned about what the future will look like. Communities are keen to find out what they can do to start making changes in their area.
To help with this, Northamptonshire ACRE has partnered with Climate Action West Northants and the University of Northampton to host a symposium on Monday 12th September 10 am to 4pm at the Hunsbury Hill Centre. Our Grow Green Together symposium will highlight the brilliant environmental work already being done in the county, with inspiring guest speakers such as writer and environmental campaigner Dr Mark Avery Evironmental Blogger and campaigner, Dr. Janet Jackson, Ecologist from UON, Russell Horsey Arboriculturalist and Amy Cooper from Community Supported Agriculture, as well as representatives from both NOrth and West Northants Councils.
Tickets are £25, which includes lunch and all refreshments and can be booked here.
And as part of our Grow Green Together programme we are hosting a series of environmental talks, walks and workshops beforehand that are free to attend:
Why not join us at these events and be inspired to start your own grow green project! More information here or contact [email protected] if you would like to have a stall to showcase any environmental or food work your community is doing. Stalls are free.