good Neighbour Schemes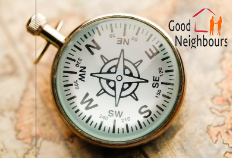 GREAT NEWS....GOOD NEIGHBOURS GO COUNTYWIDE!
From August 2022 our Good Neighbours Schemes (GNS) start up support for new and existing community support groups in the north of the county, is now available countywide!
Our funding of up to £700, (to cover group start-up costs), together with support & guidance from our Fieldworkers, includes assessment of need (how many people could benefit from a scheme in your area) and every step of the way to becoming a Good Neighbours Scheme.  We don't stop there; we are also available to provide on-going assistance after joining our growing Network.  With our regular newsletters, lively zoom meetings, we aim to provide a wealth of useful information and get people connected across the county sharing ideas, experiences and supporting each other.
Any eligible community support groups that could benefit from our help may be considered, to enable them to start up or to continue to offer that added value they can contribute to their communities.
We can provide guidance on how to start, manage and run your scheme. To simplify the joining process, we also offer admin support, operational policies, publicity, and volunteer recruitment support, if required and much more.
For more information about the Good Neighbours Schemes, how to apply or for a general chat, please contact our Fieldworkers, either Claire on 07546788475 or Joanna on 07763407217, who are more than happy help!
---
Find out more about how to become a Good Neighbour Scheme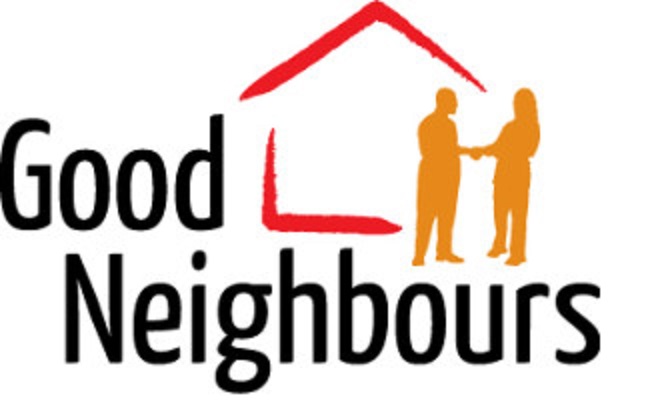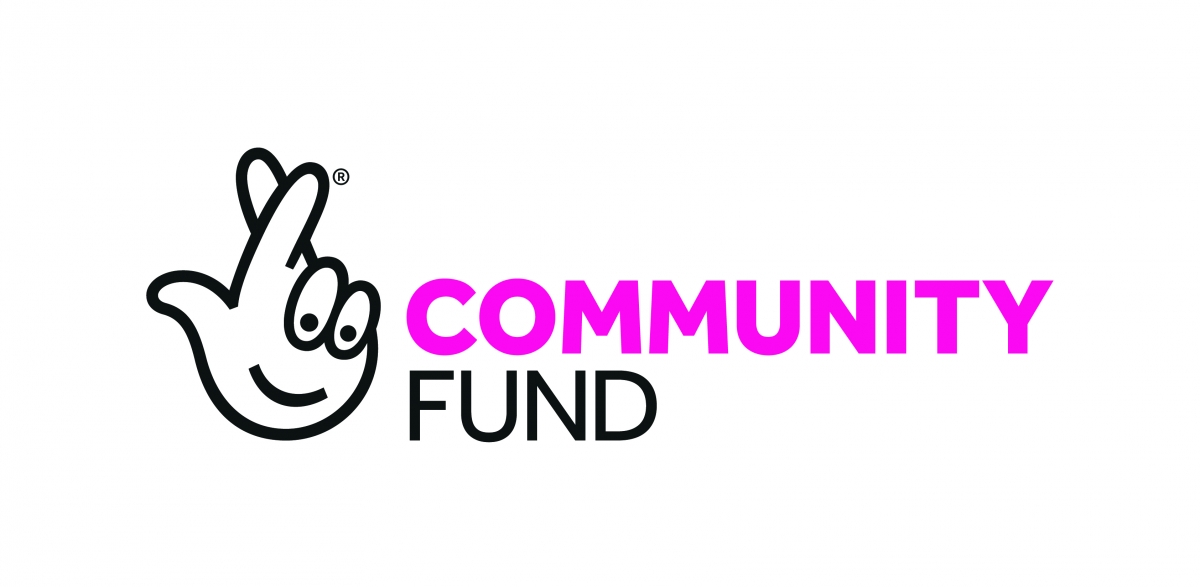 Thanks to the National Lottery Community Fund, which awarded us over £287,000 in 2019 to establish 30 Good Neighbour schemes in North Northamptonshire, we are making great progress in setting up a netwiork of supportive Good Neighbour schemes across the county. The funding from The National Lottery Community Fund distributes money raised by National Lottery players for good causes - it is the largest community funder in the UK.   
This funding has enabled Northamptonshire ACRE to employ two Good Neighbour Fieldworkers (meet Claire and Joanna below) who will support and assist 30 rural communities across Corby, Wellingborough, Kettering and East Northamptonshire, to set up Good Neighbour schemes from April 2020 over a 3 year period.
The Schemes are all unique and designed to meet individual local needs.  They are run by the good will of local volunteers providing day to day low level support to fellow residents in their community.  Support may involve informal general help or activities, either on an occasional or regular basis.
Up to 600 local volunteers will be supported to directly to provide this help to more than 1,000 vulnerable community members of all ages, including those isolated, older people and carers. By building stronger community relationships, utlising local people's collective skills, knowledge and resources it is very rewarding to be able to assist people, your neighbours, to achieve their full potential, sustain safe and independent living.
Our Fieldworkers are planning visits to rural towns, villages and events across the county to provide advice, information and signposting over 2,000 more referrals so people know where and how to access and get the support they need.  Advice surgeries in local libraries and village halls will also be provided.
If you would like more information or to explore setting up a Good Neighbour Scheme in your village, we would be very happy to hear fom you.  Please call us on (01604) 765888 or email [email protected]
---
Meet the Fieldworkers

Hello, I am Claire. When I applied for this opportunity, I was inspired and drawn to the culture here, the visions and values of supporting & promoting community wellbeing, with and for the good folk of Northamptonshire.
Northampton born and bred, I have good local knowledge and an appreciation of evolving need across the County. I bring with me a passion & a commitment in supporting people to achieve and sustain lives well lived.  I have experience in Counselling, health and social care in the Public, Private and Third Sector Organisations, more recently within the Local Authority.

I'm Joanna. I have been part of the Byfield Good Neigbours Scheme since 2018 & I am looking forward to supporting existing Schemes and encouraging new start-ups across the north and east of the County, as I have seen first-hand what a positive impact the Scheme makes on so many lives.
Before joining Northants ACRE, I worked for six years as the Children & Families' Worker at Holy Cross Church in Daventry.   
For enquiries, support and further information contact us: [email protected] & [email protected]
We look foward to meeting you!
---
What are Good Neighbour schemes?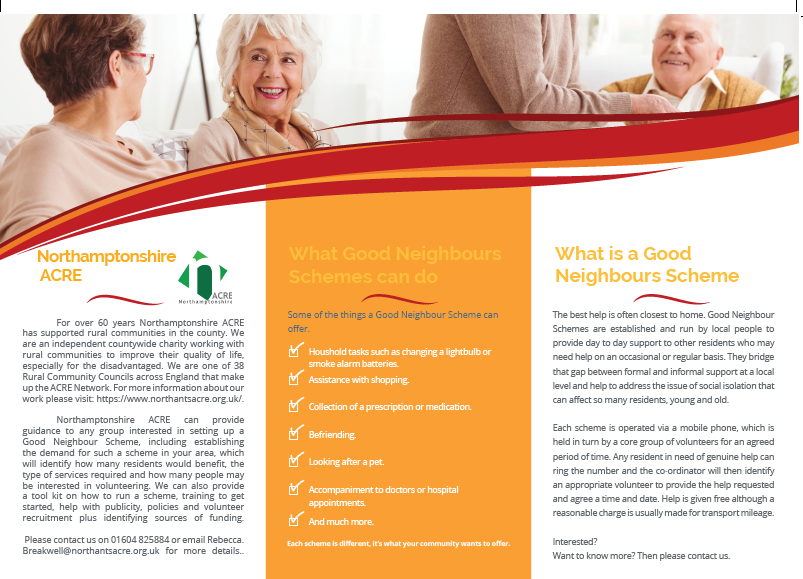 Everybody needs Good Neighbours
The Benefits 
Good Neighbour Schemes can benefit local volunteers as well as the people they are helping.
For someone volunteering their time, the scheme is a chance to: 
Get involved with your community ad do as much or as little as you want. There's no need to feel awkward if you can't always help.
Meet new people who you might not have met otherwise, including those from different generations.
Make use of whatever time you have to spare as well as particular skills you may have, such as IT or gardening expertise.
For those being helped, the scheme is a chance to access support to complete jobs that may normally be difficult for them to do alone. But the scheme could also:
Give them the opportunity to meet new people and make friends. Stop them from feeling they are 'bothering neighbours' if they need to ask for help frequently.
Help them to stay in their own home for longer as they get older.
Soften the impact of losing local services such as the village shop or post office
Enable them to become a volunteer because they have skills to offer that otherwise they may not be able to share.
---
How you can help:
A Good Neighbour Scheme in a village, Parish area or neighbourhood, requires at least one person from that area to volunteer as a co-ordinator.
Their job will be to match people who need help with volunteers in the area who are willing and able to give that help.
Parish Councils, Residents' Groups or other kinds of community organisations that are interested in starting a Good Neighbours Scheme in their area can contact:
(01604) 765888 or email [email protected]
In return we offer:
An overview of how a Good Neighbours Scheme could work for your community group, Resident's Group or Parish Council
Guidance on establishing if there is demand for a Good Neighbours Scheme in your area
A toolkit, based on national good practice,  how to run and sustain a Good Neighbours Scheme
A step by step guide
Support to get your Scheme up and running from our dedicated and enthusiastic Fieldworkers
So why not give us a call: 01604 765888 or email [email protected] and see how we can help you towards becoming a Good Neighbour community.
---
---