Northamptonshire Village Awards 2019
Congratulations to Glapthorn, Overall Best Village Winner in the Northamptonshire VIllage Awards.
Over 70 people gathered for the annual Northamptonshire Village Awards on Tuesday 16th July at the Hunsbury Hill Centre. This year the awards are sponsored by CPRE Northamptonshire and we had a joint awards evening with presentations of the David Laing Litter Heroes awards as well as the awards to the Small, Medium and Large villages in the different categories.
The Overall Best Village award went to Glapthorn who also took home the Newcomers Rose Bowl and the Best Small Village Cup. A fantastic achievement!  Representatives of Glapthorn are pictured receiving their Best Overal Village award from Lord Lieutenant David Laing, President of Northamptonshire ACRE and of CPRE Northamptonshire. If you want to here what Glapthorn thought of the Village Awards click here.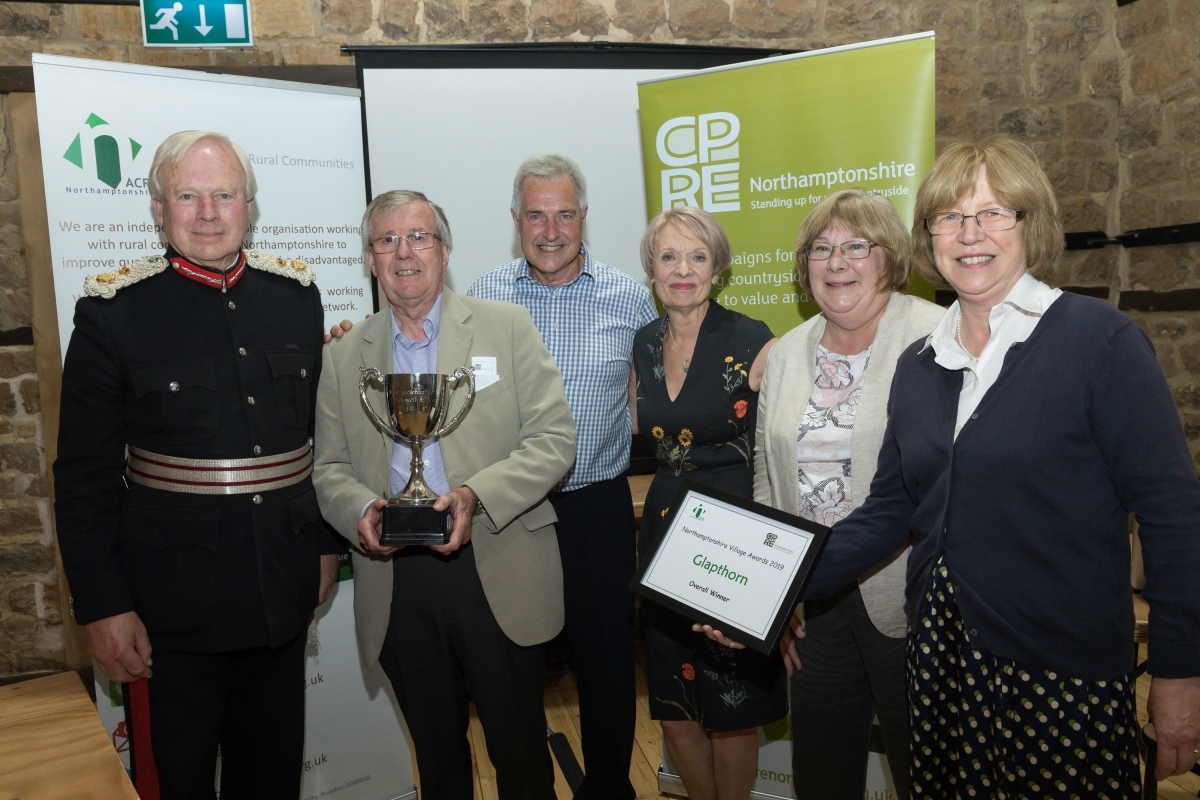 Braunston was the Best Medium Village
East Hunsbury was the Best Large Village.
Helmdon and Rothersthorpe were both awarded Highly Commended for their villages.
Congratulations to eveyone who won and to all the villages that took part. A fantastic achievement by everyone.
---
The Northamptonshire Village Awards is a wonderful opportunity for residents of a village to showcase what is great about their community, why they like living there and why others should visit. This year the awards are sponsored by CPRE Northamptonshire, who also run their long established Litter Heroes Competition. This year the competition has been named the David Laing Litter Heroes Competition, in honour of both theirs and NACRE's President David Laing.
The Presentation Evening where all the winners of both competitions are announced is being held on Tuesday 16th July 2019 at the Hunsbury Hill Centre, starting at 6pm for 6.30pm. If your village has not entered the competition before but you would like to know more about it, why not come along to the Presentation Evening and meet the winners, hear why they entered and find out more about how you can enter next year. To book a place, please call Sarah Clarke on 01604 765888 or email [email protected]