Northants ACRE Village Survey 2021
The last village survey that NACRE carried out was in 2011 and it gave a picture of villages that were having to adapt to new challenges in order to keep their community going. Transport, provision of services and the environment were all identified as key issues for many of the villages, along with the concern about much new development. It was felt that it was the right time to complete a new survey, which was carried out in 2021.
Our survey was formulated by listening and learning from local people. The survey focused on ten key areas helping to build up the picture of rural life in 2021. The aim is to establish local evidence to assist in targeting rural needs. A robust knowledge base is needed to champion rural interests and also to help policymakers such as Local Authorities and other statutory agencies make provision for rural needs in Northamptonshire today.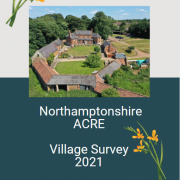 The survey was sent to 331 Northamptonshire Parishes. Thank you to everyone who was able to take part, a total of 87 (26%) completed surveys were received.
To obtain a copy of the Village Survey 2021 please download here email [email protected] or tel. 01604 765888