Greening your community
What does it mean to be a green village? It doesn't just relate to the plants, grass and trees around your area but how you as a village tackle issues such as climate change, flooding, less waste, better and cleaner energy etc Here at Northamptonshire ACRE, we know that many parishes, community groups, businesses and members of the public want to do something to help their environment thrive but it is not always clear what can be done. Northamptonshire ACRE can help you with this. We can work with a community to carry out a green assessment of your environmental assets, support you to put together a green plan for developing projects to enhance your community and assist with obtaining other expert advice and funding.
Our Rural Officer, Jennifer Hedges, has a background in Environmental Land Managent and a wealth of knowledge about carrying out green assessments and developing sustainable green plans. If your community is interested in improving the biodiversity of your area, Jenni can help you to audit what is currently in place in your community and suggest how you can improve things to beneift both the environmnt and local residents. If you want more information about the type of support she can offer or have a project in mind you would like her help with please contact Jenni at [email protected] or tel. 01604 765888.
You may also want to check out the results from our recent Grow Green Together symposium.
Grow Green Together Symposium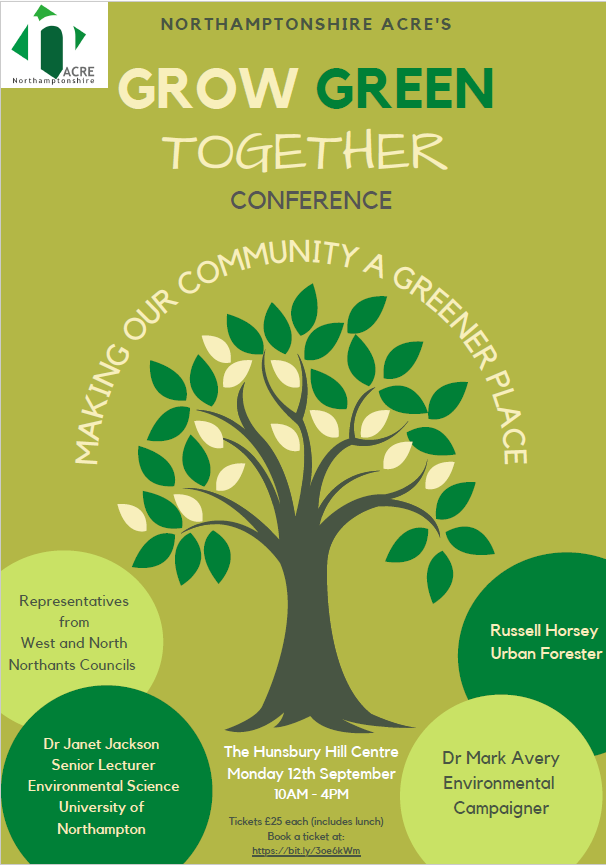 In conjunction with Climate Action West Northants (CA-WN) and the University of Northampton, we recently ran a day long conference that brought together over 80 people from a wide range of interests to hear inspiring speakers give hope as to how they could start to improve and green their area to the benefit of the enviroment and the people living there. For details of the speakers, workshop, panels and slides click here.
Prior to the conference we ran a series of workshops, visits and tours during August
How to Green your communty building - presented by Tess Rushton of the Centre for Sustainable Enery
Butterfly conservation talk - David James, Northamtonshire Butterfly Recorder for the Butterfly Conservation charity
Syan Farms vertical farming visit
Some useful links:
Climate Action West Northants -CA-WN is a volunteer run residents group aiming to reduce greenhouse gas emissions, improve biodiversity and build community resilience through lobbying, collaborating, communicating and engaging.
University of Northampton
Northamptonshire County Council Flood Resilience Toolkit. Find out what you can do to make your community more resilient and flood aware
Northamptonshire's Climate Change Strategy 2020 - 2023. A working document that has been developed by local authorities and other partners in the county (including Northamptonshire ACRE), the strategy has agreed targets around reducing the amount of CO2 emissions per capita in the county and adapting to climate change.
Centre for Sustainable Energy. An independent national charity that shares knowledge and experience to help people change the way they think and act on energy.
Rural Community Energy Fund. A £10 million Government funded programme, which supports rural communities in England to develop renewable energy projects that provide economic and social benefits to the community. to support rural communities across England wanting to set up renewable energy projects in their area.