BEST VILLAGE COMPETITION 2018
What is the Competition?
The Northamptonshire Best Village Competition celebrates the initiative and resourcefulness of over 300 villages in the county and is a chance for people living in those rural communities to showcase what is great about their village and what they like about living there. The Competition is run annually and is based on the two essential criteria of:
Why would you want to live in this village?
Why would you want to visit this village?
These two criteria combined are intended to ask the question: what are the 'Wow' factors of the village.  The Competition looks at all aspects of village life: community and social activities and cohesion, sustainability, the provision for the younger and more senior residents, the use of IT and social media, local business involvement as well as tidiness and the welcome visitors receive. It is also an opportunity for people of all ages and from all walks of life to work together to bring about improvements in their village.
Categories:
Villages enter one of the following categories depending upon their size:
Small Village - for those with a population of 500 or fewer. Rothersthorpe won this category in 2018
Medium Village - for populations of 501 - 3000. Weedon Bec won this category in 2018
Large Village - for those with a population between 3001 - 6000. Moulton won this category in 2018
Newcomers Cup - this is awarded to a village that has not entered before but is ajudged to be the best newcomer village that year.
Winners in each category will receive a cash prize of £250 to spend on something for their community and then go forward with the chance to become the overall Northamptonshire Best Village winner. The Best Village winner will receive a total cash prize of £1,000 to be spent on community benefits for their village - the Overall Winner does not receive the smaller prize of £250 for winning their category. .
Northamptonshire's 2018 Best Village Competition Winners
The winners of the 2018 Northamptonshire Best Village Competition were announced at a fantastic Presentation Evening held on Tuesday 17th July 2018 here at The Hunsbury Hill Centre, Harksome Hill, Northampton.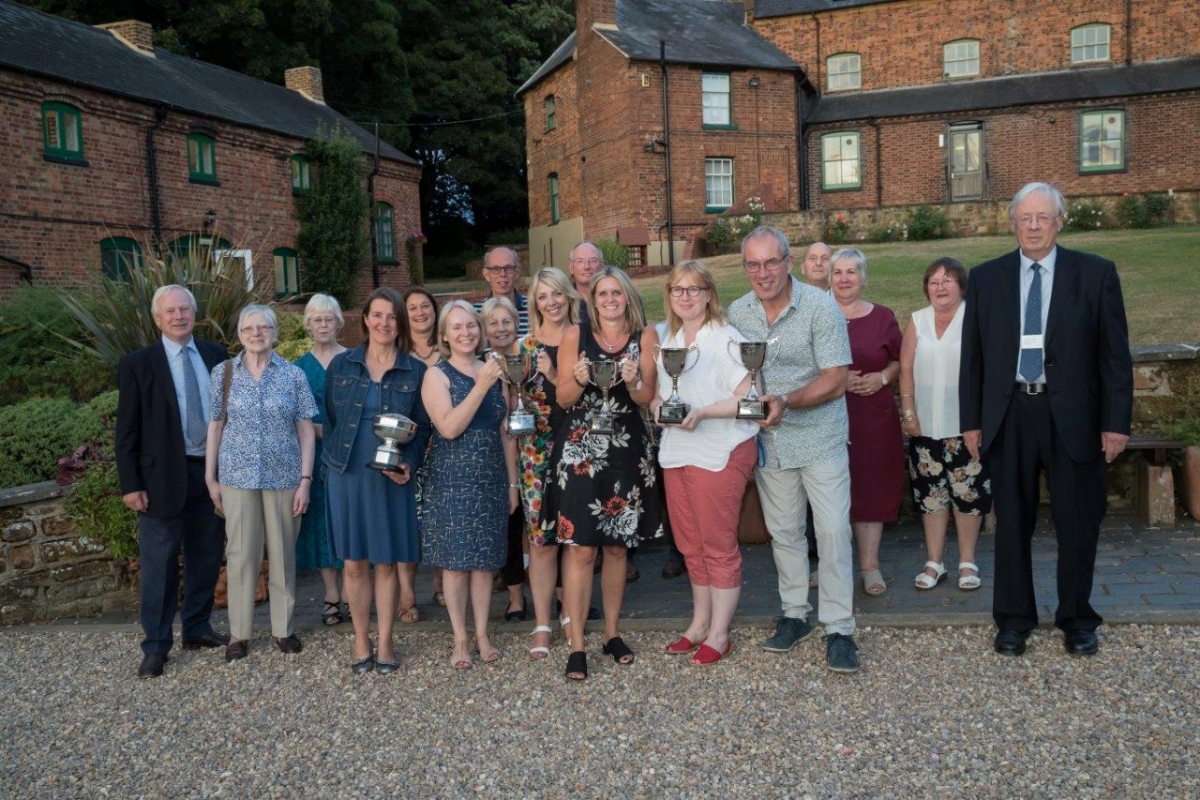 All the winners from the 2018 Best Village Competition
David Laing, H.M. Lord-Lieutenant of Northamptonshire and President of Northamptonshire ACRE, presented delegates from the winning villages with cups and certificates. David Scudamore, Chair of the 2018 Northamptonshire Best Village Competition and trustee of Northamptonshire ACR, announced the winners during the evening celebrations.
The village of Moulton was the overall winner gaining the prestigious title of the 2018 Northamptonshire Best Village and winning the prize of £1000 to be used for community projects. Representatives of Moulton, seen here with David Laing (right) are holding their certificate and Best Village Cup.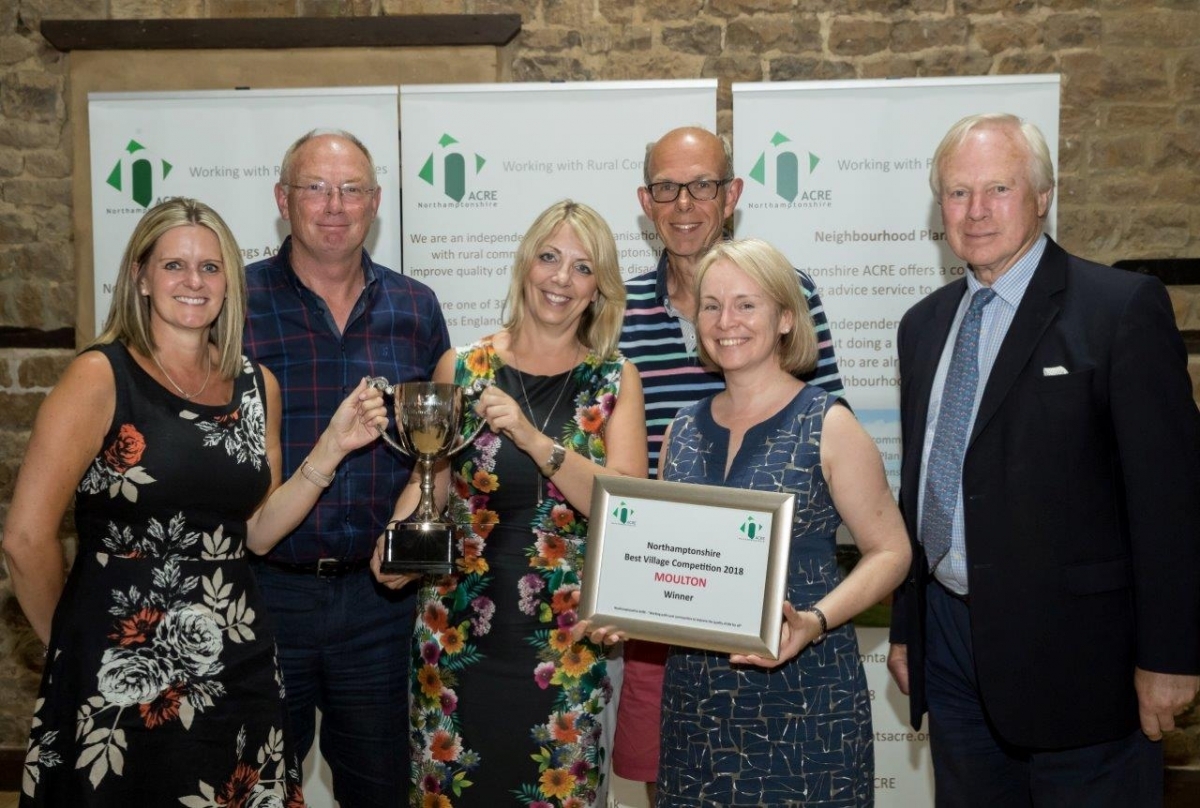 Representatives of Weedon Bec, which was the runner up, are seen here with their awards,.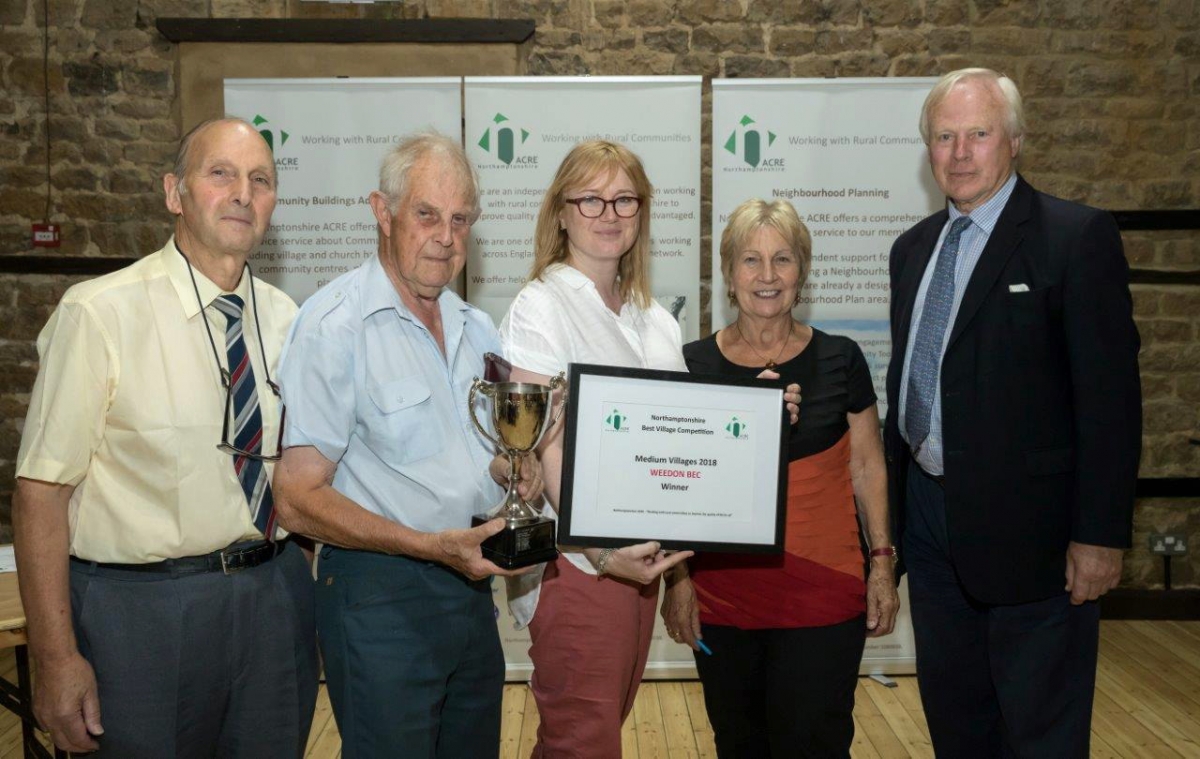 The full results are as follows:
OVERALL WINNERS
 

 Winner

 Runner Up

 Third
 

Moulton

Weedon Bec

Braunston

LARGE VILLAGE:         
 
Winner
Moulton
MEDIUM VILLAGE:
 

Winner

Runner Up

Third

Weedon Bec

Braunston

Flore

SMALL VILLAGE:
 

Winner

Runner Up

Rothersthorpe

Great Cransley

NEWCOMERS CUP:
 

Winner

Runner Up

Kilsby

Guilsborough
Judges:
The Competition is run entirely by local volunteer organisers and judges and is administered from Northamptonshire ACRE's offices in Hunsbury Hill, Northampton. If you are interested in becoming a judge for the Competition, this poster gives more details or please contact Rebecca Breakwell on 01604 825884 or email [email protected]. Full training is given to all judges and expenses paid.
For more information regarding the competition please contact Rebecca. Alternatively you can email [email protected] or [email protected]