Community Orchard & Forest Schools
Wednesday, December 1, 2021
Postcode Places Trust funding green activities
Thanks to the funding we received from the Postcode Places Trust in August 2021, we have been able to run a number of fun forest school events for children and families as well as start the work on our community orchard. The Postcode Places Trust is a grant-giving charity, funded entirely by players of the People's Postcode Lottery.  By providing financial support for charities and good causes, Postcode Places Trust helps communities improve health and wellbeing, reduce isolation and undertake arts and physical recreation activities.
Our community orchard is here!
Thank you to everyone who came to our Community Orchard tree planting event on Tuesday 30th November 2021. We planted 30 heritage fruit trees on the Hunsbury Hill Farm site, home to Northamptonshire ACRE. This project, funded by the Postcode Places Trust and Rotary Club Northampton, is a collaboration with West Hunsbury Parish Council, community group Save Our Street Trees and urban forester Russell Horsey from Woodland Dwelling, who led the planting.
Students from Hunsbury Park Primary School and Moulton College spent the day helping us plant apples, pears, damsons, plums and quince.  The fruit varieties have been chosen for their historic value, and were once grown in orchards across the East Midlands. For more details of the varieties of frut trees planted, check below.
The orchard project is part of a wider project to restore the beautiful Grade 2 listed farmhouse, outbuildings and landscape at the Hunsbury Hill Farm. This is the first stage of that project, but not the last! It's hoped the planting will provide a beautiful community space for East and West Hunsbury residents and visitors to enjoy, and learn new skills. There are plans for orchard activities and events to take place in future years. We will keep you updated on our fantastic project and when we have further events taking place.
All of the fruit trees that we planted have been pinned on the QGC map as part of the Queen's Green Canopy project. This is an initiative to commemorate the Queen's Platinum Jubilee next year by encouraging individuals and groups to plant a tree for the Queen's Jubilee. They are also, in a very small, modest way, part of the Big Climate Fightback, run by the Woodland Trust that is aiming to get 50 million more trees planted by 2025. The Woodland Trust also provides free tree packs to schools and communities at certain times of the year. Find out more here.
And last but not least, many thanks to BBC Radio Northampton's Tom Percival, who came along and interviewed many of the volunteers for the Annabel Amos breakfast show (listen here to the interviews, first one at 1hr 23:49) and to Kirsty from the Chronicle and Echo who came along and took some fabulous photos of our planting day. If you would like to see the photos please click here for the photo gallery. Chronicle and Echo article on the orchard planting at Hunsbury and the 240 woodland whips planted next day at Delapre Primary school, which Russell was also helping with. A busy man!
Fruit trees planted
We were originally intending to plant 20 fruit trees in our orchard area. We were delighted when we were awarded funding from the Postcode Places Trust, which is sponsored by players of the People's Postcode Lottery and this enabled us to purchase 15 heritage fruit trees. We were then able to purchase an additional 5 fruit trees dut to the generosity of the Rotary Club Northampton, which is celebrating 100 years of service to the community. As part of that celebration Rotary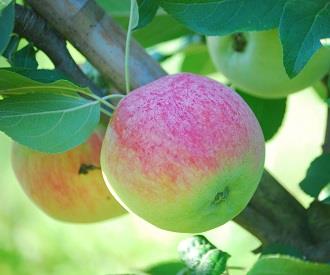 members have been planting 100 trees across Northampton and they kindly sponsored the planting of 5 fruit trees in our orchard.
After discussion with Russell Horsey, urban forester and the person leading the planting day, it was agreed that the orchard area would be able to support up to 30 trees and after consideration, the Trustees of Northamptonshire ACRE decided the charity would purchase a further 10 fruit trees. So in total we now have 30 fruit trees covering apples, pears, plums, damsons and a quince.
All the trees were purchased from the Heritage Fruit Tree Company, who are on a mission to bring back traditional varieties of apple, and other fruit, many of which are now endangered. Thank you to Andy at the company for all his help in choosing the varieties. For a full list of the fruit trees we planted, click here.
And it seems we have room in our orchard for another 30 trees! We shall be looking to plant those in future years. We will keep you updated.