Rural Well Being ~ 'Out and About' on 7th August 2021
---
We are delighted to announce that the Fieldworkers at Northants ACRE will be visiting rural towns, villages and events during the coming months.  Both Claire and Joanna are really excited to be able to meet people face to face at last!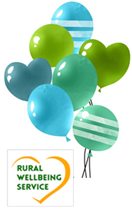 The journey starts on Saturday 7th August 2021 at the amazing 136th Blakesley Agricultural Show. The Blakesley Show is a traditional one day annual event.  The gates open at 8am until 5pm at Blakesley Heath Farm, Maidford, Northampton, NN12 5HN.
We will be there between 8am - 4pm with the Rural Information Centre (RIC), a unique outreach resource.  You can access information, support, advice and guidance on many aspects of daily life through our Rural Well Being Service and we can also introduce you to our Good Neighbour Scheme.
If you have any concerns regarding well being for yourself or someone else, or issues relating to your community, or perhaps just for a chat, please do come along and join us.  We are happy to be able to offer help and support and everyone is very welcome.
Joanna & Claire look forward to meeting and seeing you soon. 
---