Funding to reduce energy bills
Wednesday, February 10, 2021
Grants of up to £5,000 are available from Low Carbon Workspaces, to help SMEs in Northamptonshire reduce their energy bills and lower their carbon emissions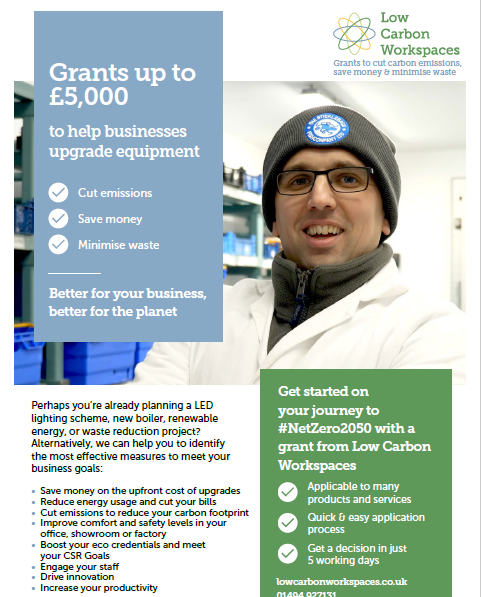 Grants of between £1,000 and £5,000 are now available to SMEs based in Northamptonshire to cover up to a third of the capital cost of energy-efficiency upgrades. Upgrades must take place in commercial premises, and the types of installations which can be funded include LED lighting, solar panels, boiler upgrades, double glazing, insulation and more.
The purpose of the fund is to help local businesses reduce energy bills, cut carbon emissions and improve eco-credentials as part of the U.K goal to achieve carbon neutrality by 2050. As the economy looks to rebuild and grow from the COVID-19 crisis, Low Carbon Workspaces can help businesses build back greener and recover in a more sustainable way.
The application process is quick and easy. A dedicated Project Officer will guide businesses through the process, advising them on how to tackle energy consumption, and identifying suitable projects for funding. All you will need to apply is a supplier quote, 12 months of energy bills, and a completed application form, downloadable here
Email your completed application to [email protected] and get a decision from the Grant Panel within 5 working days!
Low Carbon Workspaces is an ERDF-funded grant programme that helps SMEs identify opportunities to reduce energy usage, and provides grants of up to £5,000 to help pay for the installation of energy efficiency upgrades.
To learn more, and find out how the grants can be offered to local businesses, click here.