Coronavirus update - supporting you while you support others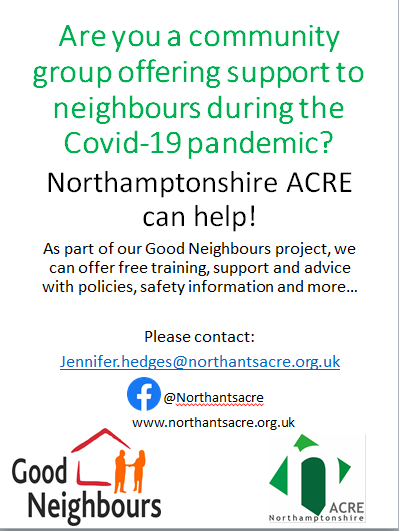 During this really difficult time with Covid-19, you may feel you want to help the more vulnerable people in your area. It is likely that many others around you feel the same way and perhaps you have even started setting up a group to help residents in your neighbourhood, a 'good neighbour' group.
If you are considering setting up a support group, why not call us at Northamptonshire ACRE for assistance in this. We have a lot of experience of setting up such good neighbour groups and can provide you with a wealth of information to get started, free resources such as policies, step by step guides or leaflets such as this #ViralKindness leaflet* along with free ongoing support.
Call us on 01604 76588 or email [email protected]
We are here to help you, while you help your neighbours!
*The #Viralkindness card is the idea of Becky Wass in Cornwall and was produced to help people who are self isolating during the coronavirus pandemicc.