Hunsbury Hill Centre
 Welcome to The Hunsbury Hill Centre
The Hunsbury Hill Centre is a Grade II listed farmstead on 13 acres of land and has been owned by Northamptonshire ACRE since 1977. Our offices are in the main farmhouse, the large building in the picture.
  The farmstead was built in approximately 1770 for Edward Bouverie of Delapre as one of three farms in the  area to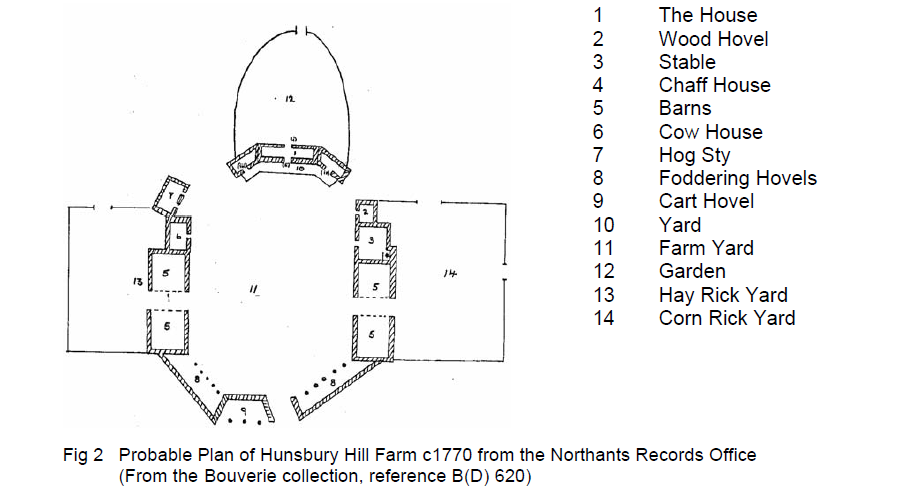 provide produce to Delapre Abbey, which he also owned. It is a rare survival of an  early 'model farm', that is, a farm that was designed and built in a single phase, and exemplifies best practice for its day. Model farms were a vast improvement on anything built earlier in terms of convenience and efficiency and represent advanced thinking in architectural as well as agricultural ideas.  
The farmhouse and farm buildings are set around an octagonal courtyard as is shown in the plan on the right. It is unusual and remarkable because the layout of the buildings has remained almost unchanged from 1770 to the present day. No similar farmstead within the county is known.
In later years, the farmstead had other owners including Pickering Phipps, the Northampton Brewer, who was also the chairman of the Hunsbury ironworks. Pickering Phipps cut down many of the oaks that were in the woods to use for their beer barrels. And in the late 1870s a tramway was constructed in the area to link the various Hunsbury Hill quarries to the blast furnaces erected alongside the river to the north of the farm. The tramway passed through the Hunsbury Hill woods and although it fell into disusue after 1921, the cutting that runs through the woods can still be seen and is shown on this Land Registry site map.
If you would like to find out more about the history of the Hunsbury Hill Farmstead, check out our Heritage page.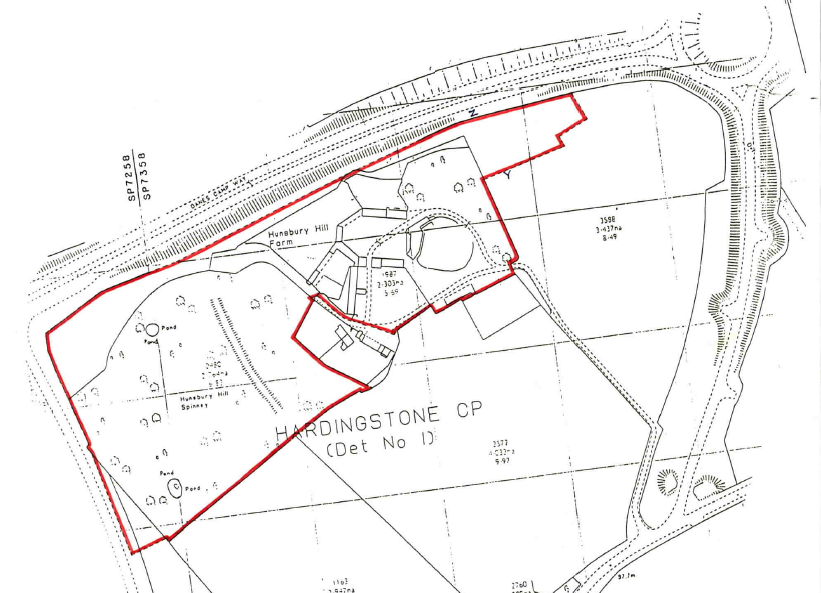 Up until 1976 the site was a working farm before being sold by Northampton Development Corporation to Northamptonshire Rural Community Council (we became Northamptonshire ACRE in 2000). In 1977 the charity took over the 13 acre site (the boundary of the site is shown in red on the map), which includes 8.5 acres of woodland and in March 2000 we changed our name to Northamptonshire ACRE.
We use the farmhouse for our offices and we have a trading arm, The Barns at Hunsbury Hill, that runs events, such as weddings, on the site. If you would like to know more about the services offered by The Barns including our meeting rooms that can be booked, please check out The Barns website or contact [email protected]
We will be celebrating our birthday next year!
Northamptonshire ACRE (RCC) was formed in 1947 and on 26th July 2021 we will be celebrating our 75th birthday. Look out for further details about the events we have planned for next year!